Be a Healthy Skeptic!
In order to make the right financial decisions, you need to form decision making habits that positively impact the quality of your live.
To get there, you need to become a healthy skeptic!
A healthy skeptic slows down before making any decision with money, and properly researches options and compares choices.

Here's why that is important...
SO, WHY DO YOU NEED TO BE A HEALTHY SKEPTIC?
Because of something that sounds really boring, but it isn't... It rules your life!
It's called the "Free Enterprise" system.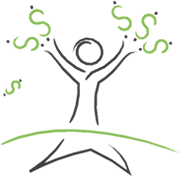 What's the point...?
People have a right to sell you, even if you shouldn't be buying, or if it isn't good for you.

Companies have a right to sell you, even if there's cheaper stuff, and better stuff.

They have the right to sell you, even if you can't afford it.

And every waking minute of every day somebody is trying to sell you something.

You don't even know this stuff is going on, sometimes.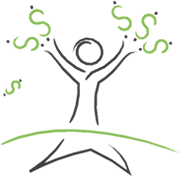 THAT'S "FREE ENTERPRISE" FOR YOU...
America has been running on this economic concept since forever.

So please realize this isn't something new that will fade into a fad.
FEAR NOT THOUGH!
You can set up your own healthy skepticism filter in three easy steps that you can start, right away.
Step 1: RESEARCH!
Find reputable sites—watch out for sponsored sites that would only you tell the good things about a product, like so:
So what are good sources, and key markers?
You need to become media literate, don't you think? You can start by following the tips in this video...
Step 2: READ!
Skip the flashy messages marketers want you to read. Check the fine print—the stuff they legally have to say—it usually tells a completely different story.
Watch this...
Get into the habit of digging into the fine print.
Once you get this concept down, you'll always look at ads differently. It's a positive mental shift that will save you money, guaranteed.
Step 3: ASK QUESTIONS!
If you don't know, ask. Just remember, a salesperson doesn't have to tell you the truth.
Use your critical thinking to find the truth.
Example questions:
1: What's your return policy?
Can you get cash back vs store credit? Do I need to keep my receipt to get a refund? How long do I have to return it?
2: What's the warranty on this?
How are your warranties processed? Are warranties different for online vs in-store purchases?
3: Can this be used for "xx" purpose?
You know what you're buying this for. Make sure it works for you.
Uncle Walter Says:
FoolProof was co-founed by a guy named Walter Cronkite. A former CBS News Anchor from the '60-'70, once famed as "the most trusted man in America."
​
His philosophy...? To know the truth, you need to know both sides of the story.
​

And that's where FoolProof is trying to get you.
BUT THAT ISN'T ALWAYS EASY!
Retailers and consumer psychologists have found many ways to try and trick us into purchases, letting us believe their side of the story is great for you. But you can fight this...
---
Don't stress!
You got this.
By:

1. Researching reputable sites

2. Reading fine print

3. Asking probing questions



You're on the way to being a healthy skeptic and a critical thinker.
---