Gaming As a Mindful and Ethical Teaching Tool
Virtually all gaming is mindless. Virtually all gaming is manipulative—just another way to sell something to kids.
"The Neighbormood" is different! It teaches kids to be healthy skeptics when it comes to decisions about their money and personal wellbeing. Make poor decisions in game, and see how that would affect you in real life!
Isn't that the type of gaming our kids need?
Free, and Commercial-Free!
FoolProof and our great partner DotDotFire developed this, and it's the first game ever endorsed by the Children's Screen Time Action Network.

It's free, and commercial-free!
We're going to change gaming, and your kids' consumer habits, starting now.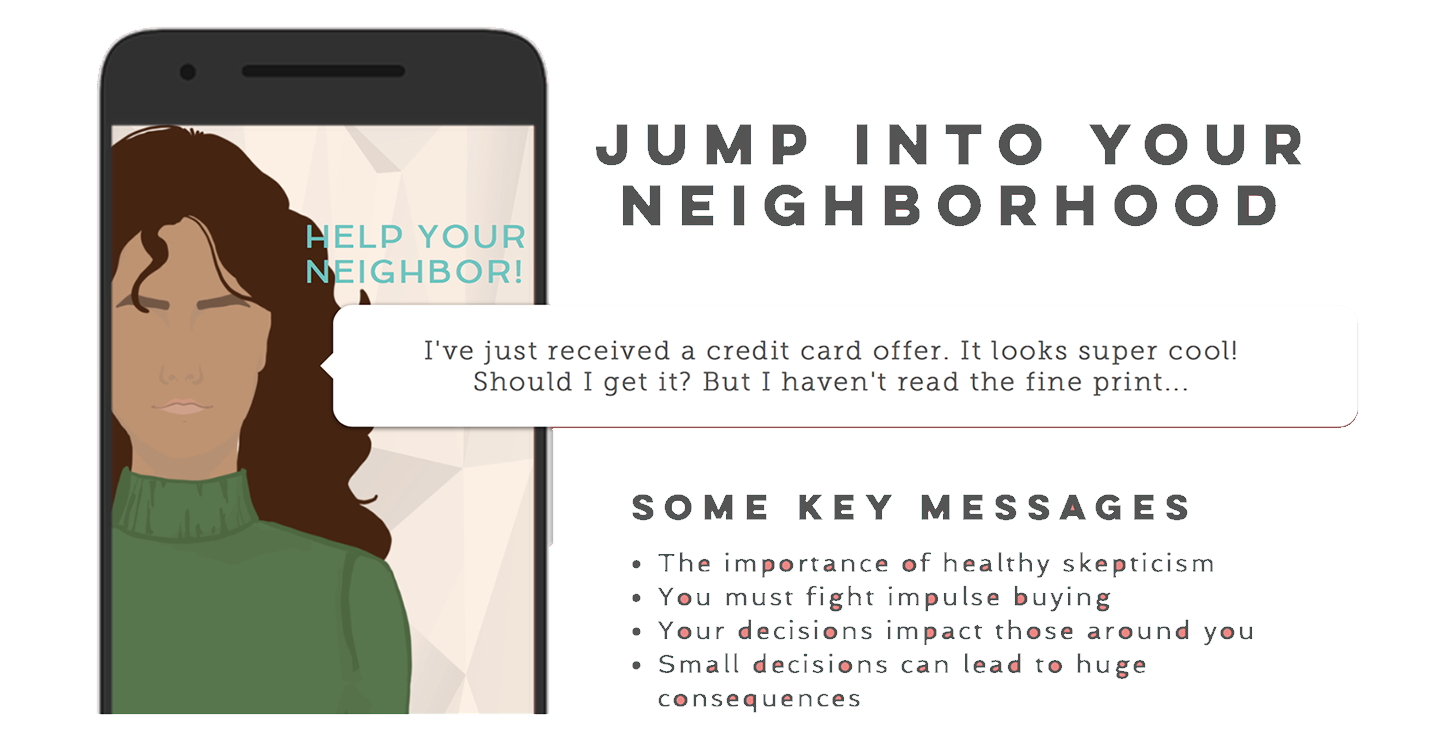 A Free Game That's GOOD for Your Kids!
Sign your kid up for financial literacy month! Just put in your kid's cell number and we'll send them a download link.
Here's the fine print, up front, in language you can understand. And we think you'll like it: So, please read it!
By giving us your child's number you are confirming that you are indeed this child's parent or guardian.
You agree for your child to receive one SMS message about The NeighborMood game.
Here's the information we will gather about your child: your child's cell number, the carrier's name, the date, time, and content of the message.
None of the information we gather will be shared, sold, or rented to anyone.
We confirm that you are not buying anything from us by signing your kid up.
We won't charge you or your kid for the SMS, but your kid's carrier might depending on their plan.
What to do now:
Tell your kids you're sending them a link to a game! They probably won't believe you.
Tell them you'll reward them if they play the game! You come up with a nifty reward.
Sign your kids up right here (if you haven't already).
We'll send them an SMS message with the download link.
Bingo, they start playing, get smart(er) and get rewarded.
Our Partner

We are honored to partner with Dot Dot Fire in the development of The NeighborMood: an educational video game that brings real financial literacy to life. Through their focus on STEM education, Dot Dot Fire's mission isn't just to help kids learn, but to help them fall in love with learning. They create ethical games uniquely designed to bring education to real life. The NeighborMood does just that. It is free, commercial free, and free of hidden agenda's. That's why it has received broad support from the Digital Wellness World, from the Children's Screen Time Action Network to the Digital Wellness Collective!
Dot Dot Fire's Website